The #2 Rated Ringworm Product: Phytozine
Phytozine - #2
Ringworm Product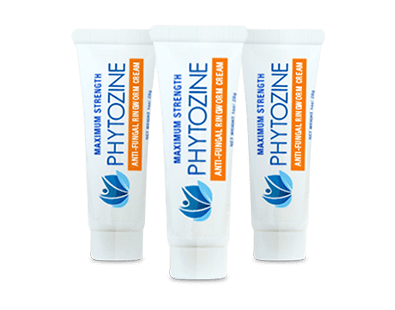 Phytozine is specifically formulated for any fungal infection, such as ringworm, plus other uncomfortable conditions with a fungal based infection.
EDITOR'S RATING
38 User Reviews
Introduction
This is a review for Phytozine Ringworm Treatment. According to the manufacturer's website, this product is a fast acting ringworm treatment, and they claim it is the most effective topical ointment on the market. The website also states that that Phytozine is specifically formulated for any fungal infection, such as ringworm, plus other uncomfortable conditions with a fungal based infection. The website claims that it is a topical ointment that has the ability to cure and eliminate ringworm infections on the spot. It is made with organic minerals and elements and contains a synthetic anti-fungal agent called Tolnaftate which is commonly used to treat various infections. It is FDA approved as a safe method to get rid of ringworm. Keep reading to find out more.
Ingredients
Active Ingredients
Inactive Ingredients

Water
Prunus Amygdalus Dulcis (Sweet Almond) Oil
Polysorbate-20
Sodium Polyacrylate
Hydrogenated Polydecene
Trideceth-6
Glyceryl Stearate
PEG-100 Stearate
Propylene Glycol
Cetyl Alcohol
Oleth-10 Phosphate
Glycerin
Avena (Oat) Kernel Extract
Aloe Barbadensis Leaf Juice
Actrostaphylos Uva Ursi Leaf Extract
Propolis Extract
Theobroma Cacao (Cocoa) Seed Butter
Rosa Canina Fruit Oil
Camphor
Menthol
Melaleuca Alternifolia (Tea Tree) Leaf Oil
Lavandula Angustifolia (Lavender) Oil
Jasminum Officinale (Jasmine) Oil
Eugenia Caryophyllus (Clove) Leaf Oil
Tocopheryl Acetate
Stearic Acid
Propylene Glycol
Butylene Glycol
Cetyl Hydroxyethylcellulose
Sodium Hydroxide
Phenoxyethanol
Ethylhexylglycerin
Dosage
According to the manufacturer's website users are to apply Phytozine gently to the affected area several times throughout the day to keep the solution active. It also states that you can safely use this topical cream more than twice a day and it should be continued for at least 2 weeks.
Possible Side Effects
The manufacturer's website states that there are no active ingredients that would cause any side effects of any kind. Consumer reviews also state that since this is a natural product, they have experienced no side effects whatsoever.
Price
According to their website the current price for Phytozine is $39.95.
Guarantee
Via the company's website, it states that there is a money-back guarantee on all of their products, including Phytozine, for 60 days after you have purchased the product. If the user feels as though they have not received the results that they were hoping for, they can return the product and receive a full refund. The website recommends that you contact the company before you ask for your full-refund. If it has been after 60 days the guarantee is null and void.
Conclusion
Phytozine claims to have found the best possible treatment option and suggest that users should continue to use the topical cream until the lesions can no longer be seen. However, they don't really give any indication of how quickly this formula will work. they suggest that it is safe for pregnant or nursing woman as the ingredients are natural and completely safe. Even so, to be on the safe side, we suggest that you always consult with your healthcare provider. According to the website as well as the consumer reviews, Phytozine is safe, easy to use and has zero side effects. Since there is a 60 day money-back guarantee, the company stands by the product and customers are almost always satisfied.
Click here to learn more about our Top Ringworm Treatment products.
Ron Baker
reviewed on and gave it a rating of
3
.